ABOUT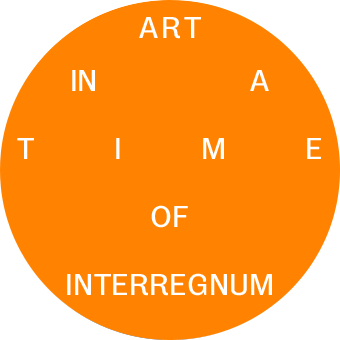 The Bratislava BAK Summer School: Art in a Time of Interregnum is a  collaborative and intensive learning week in Bratislava from 18‑21 September 2018, organized in partnership with BAK (basis voor actuele kunst) in Utrecht, Open Studio/Studio IN – Academy of Fine Arts and Design in Bratislava, APART Collective in Bratislava, and initiated by Kristína Országhová.
An advanced, interdisciplinary course designed for artists, curators, art theorists, academics, university students, and professionals in the fields of art and social change, this summer school begins from the understanding that ours is a time of interregnum—a time of crisis and ongoing transition. Much in the sense of political thinker Antonio Gramsci's understanding of crisis, these times are rife with a  "great variety of morbid symptoms" as ruling structures prove, in their grasping at "coercive force," to no longer be sustainable; "the old is dying and the new cannot be born." As social, geopolitical, economic, and technological structures rapidly change, along with the unraveling legacies of western modernity, and with ongoing recompositions of class, global migration, and the endurability of the planet, so transform ideas, practices, and meanings of resistance, coming together, identity, activist and artistic practice, and collectivity and closeness—as well as the notions of artistic production, the (art) institution, and the public. How, then, does art relate to a contemporary as such? How to think art under such circumstances, and how to think about the contemporary with and through art in order to build space for envisioning ways of being together otherwise?
The Bratislava BAK Summer School: Art in a Time of Interregnum brings together artists, curators, art theorists, and academics to collectively think through, learn about, and imagine critical, politically-informed artistic practices that work to grasp and influence our dramatically changing times. Concepts of the precariat, the challenges of contemporary fascisms, contemporary constructions of "we," the posthuman, the Anthropocene, etc. are discussed with a thematic inquiry into forms of artistic expression relevant to contemporary destabilizations.
In order to address these questions, the Bratislava BAK Summer School draws upon BAK research conducted within three interrelated projects: the current four-year trajectory Propositions for Non-Fascist Living (2017–2020), prompted by the dramatic resurfacing of and normalization of fascisms, historical and contemporary; FORMER WEST (2008–2016), which developed a critical understanding of the legacies of 1989's radical resistance to power in order to reevaluate the global present and speculate about global futures; and Future Vocabularies (2013–2016), which attempted to act out concrete propositions that explore shifts in the existing conceptual vocabularies within artistic, intellectual, and activist practices. Artists, curators, activists, and theorists will convene workshops, presentations, study groups, screenings, and lectures.
Apply
The Bratislava BAK Summer School takes place from 18–21  September 2018 in Bratislava, Slovakia. Applications can be submitted via info@bratislavabaksummerschool.art by 18  July  2018 and should consist of the letter of motivation (max. 250 words) and CV. The Bratislava BAK Summer School is open to applicants of all ages from Czech Republic, Austria, Hungary, and Slovakia, 25 of which will be chosen to participate (5 from each Czech Republic, Hungary, and Austria, and 10  from Slovakia, 2 of which are reserved for students of AFAD). No fees are to be paid upon acceptance. The participants are responsible for meals, travel, and accommodation. A list of affordable accomodation options will be provided to accepted participants to assist them in making their arrangements. For any further questions, please contact info@bratislavabaksummerschool.art. The results will be announced via email by 1  August  2018.
This Bratislava BAK Summer School: Art in a Time of Interregnum is organized by Maria Hlavajova, Artistic Director, Whitney Stark, Curator of Discourse and Publications at BAK, APART Collective, Open Studio/Studio IN – Academy of Fine Arts and Design in Bratislava, and Kristína Országhová. Contributors include artistic director Maria Hlavajova; theorist and researcher Lukáš Likavčan; curator Zuzana Jakalová; curator and art historian Mira Keratová; architect Michal Janák; and journalist and writer Martin  M. Šimečka.
Contributors
Maria Hlavajova is the founder and artistic director of BAK, basis voor actuele kunst, Utrecht since 2000, an institution that advocates for the critical role of art in society through various programmes of education, exhibitions, and publishing. Hlavajova is also initiator and artistic director of FORMER WEST, an eight-year long transnational research, education, exhibition, and publication project organised and coordinated by BAK. She regularly contributes to numerous critical readers, catalogues, and magazines internationally. In addition, Hlavajova is co-founder of tranzit, a network established in 2002 that supports contemporary art practices and exchanges in Austria, Czech Republic, Hungary, Slovakia, and Romania. She serves on the Advisory Board of Bergen Assembly, Norway.
Lukáš Likavčan is a researcher and theorist. Originally trained as philosopher, he elaborates on topics of philosophy of technology, political ecology, and media theory. Oscillating between academic practice and a broad zone in-between art and design, he focuses on infrastructural conditions of subjectivity, abstraction and imagination. Likavčan studied and conducted research at Masaryk University, Boğaziçi University, Wirtschaftsuniversität Wien, The Hong Kong Polytechnic University, and Strelka Institute for Media, Architecture and Design.
Zuzana Jakalová Zuzana Jakalová is a curator and cultural manager; works as a curator at Display – Association for Research and Collective Practice along with Zbyněk Baladrán. For five years, she worked as a curator of the Center for Contemporary Art MeetFactory AiR Program in Prague. From 2012 she was the curator-in-chief of Prádelna Bohnice, an artspace and gallery in the psychiatric hospital at the outskirts of Prague. She graduated from the Faculty of Humanities at Charles University in Prague and Theory of Interactive Media at Masaryk University in Brno, completed an internship by Renate Lorenz at the Akademie der Bildenden Künste in Vienna. She finished her diploma thesis on the feminist notion of ethics of care as a strategy of contemporary and is currently a PhD scholar at the Faculty of Arts at VUT in Brno researching topics of emotional labor in contemporary art institutions. She was in residency at the MuseumsQuartier in Vienna and was selected as a fellow for the CEC ArtsLink Residency – she realised her residency at the Triangle Arts Foundation in NYC. In her curatorial work, she dealt with topics of failure, unsuccess and embarrassment. Currently, she is researching on topics surrounding caring practices, emotional labor, healthcare and disability. She has published widely in Flash Art CZ / SK, A2, artalk.cz and others.
Mira Keratová is art historian and curator. Some of her recent curatorial projects include research project Working Memory (tranzit, Bratislava since 2009) with archive on action and performative art of so called Czechoslovakian "normalisation"; exhibition The Romance of my Young Days, the Future of my Nostalgia (Central Slovakian Gallery, Banská Bystrica 2010). She was lecturing at Academy of Fine Arts and Design in Bratislava and Faculty of Fine Arts, Brno University of Technology. She worked as a guest curator in GASK / Central Bohemian Gallery, Jesuit College, Kutná Hora. Currently she is working as a curator for Central Slovakian Gallery in Banská Bystrica.
Michal Janák completed his studies of Architecture at Sint Lucas in Gent. Since 2013 he works at PLURAL studio in Bratislava. Conceptual approach towards architecture as form is characteristic for the studio. At present, he is a student of PhD at FaSTU in Bratislava, aimed at research on history and theory of architectural and urbanistic conceptions of the city under the guidance of Prof. Henrieta Moravčíková.
Martin M. Šimečka is a journalist, writer and lector at Socrates institute, where he leads a workshop After-november history of Slovakia. He grew up in a family of a philosopher and a significant dissident during the comunist regime. Therefore he was banned from his studies, so he attended apprentice training centre at Slovnaft (oil refinery). Till 1989 he went through many professions; he was a male nurse, shopkeeper, life guard or a stoker. After the revolution he founded Archa publishing house, three years later he was leading Domino Forum weekly. Since 1999 he worked as a chief editor of SME daily paper, till 2006 when he abdicated his function. For two years he was a chief editor of czech Respekt magazine, where he continued to work till 2016. In present he is a editor and writer of commentaries at Denník N.
Contact
The summer school will take place at
AFAD Studio IN (Drotárska cesta 44, 811 02 BA),
IN/OUT Studio in Nová Cvernovka (Račianska cesta 78, 831 02 BA),
tranzit.sk (Beskydská 12, 811 05, BA),
AFAD (Hviezdoslavovo nám. 18, 811 02 BA).